Volunteering Programs in Arusha Tanzania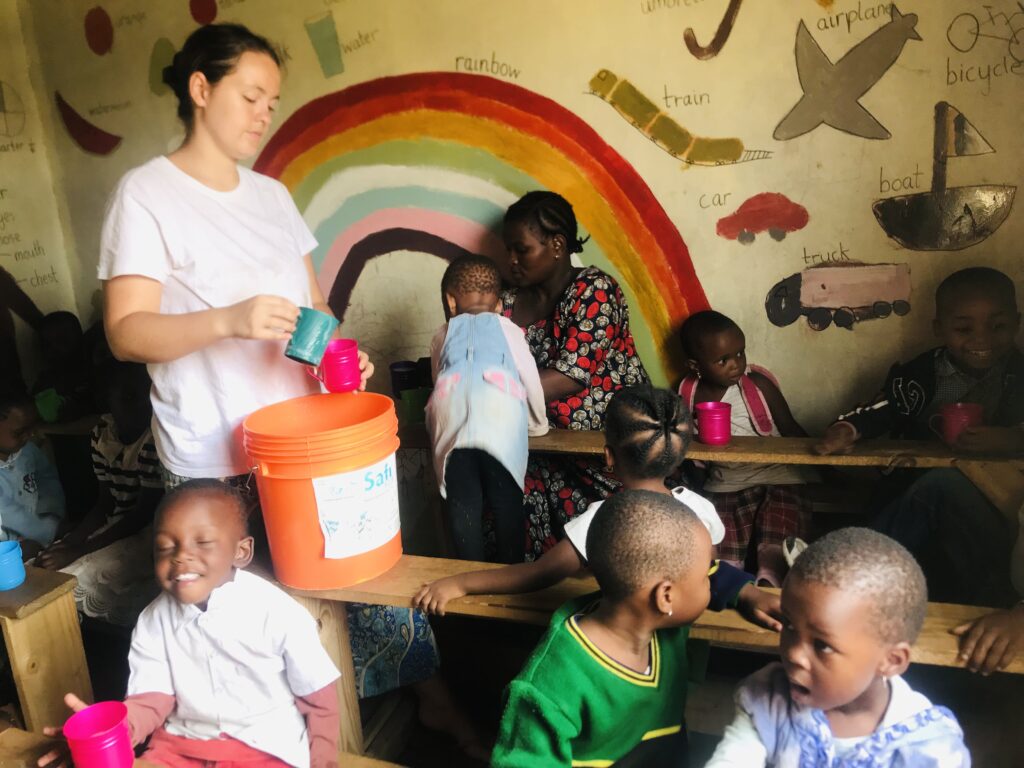 What are the Volunteering programs in Arusha Tanzania? Many visitors associate Tanzania with safaris, blue skies, and glistening coastal pools in Dar es Salaam and Zanzibar. Tanzania is not only a true haven for adventurers and volunteers alike, but it is also a premier location for meaningful volunteer experiences.
Volunteering Opportunities in Tanzania is the perfect option if you want to give a few weeks of your life to a worthwhile cause and improve the lives and communities of others. You'll return a better version of yourself, and you'll leave a portion of the world in a better state than you found it.
Education is the main cause for which you can volunteer in Tanzania. Volunteer programs for children school in Tanzania are primarily based in Arusha and involve serving underprivileged youth and orphans from disadvantaged communities.
Highlights of Volunteering programs in Arusha Tanzania
Be a volunteer in Tanzania with Travel for Charity Tanzania on a wide range of affordable volunteer programs including Childcare, Teaching English, 2 Weeks Special, and Football Coaching, and Summer Volunteering 2023. Medical and pre-med students can join the Health Care Project and work with experienced professional doctors.
Highlights:
Programs based in and around Arusha as well as Zanzibar
Experience host family living in Tanzania
Low-cost volunteer projects starting from $150 per week, including meals accommodation and Airport pickup
Incredible weekend add-on tours to explore the adventure trails and spot the Big 5 amidst the wilderness or longer hiking trips to Mt. Kilimanjaro
Great destination for medical and nursing volunteers
5 best volunteering programs in Arusha Tanzania
1. Children School
As a teaching volunteer in Tanzania you will be helping to provide lessons to children in one of our local partner schools. These schools are often underfunded and consequently under-staffed. This is where you come in!
Whether you are a qualified teacher or a student, you could help to make a big impact on the lives of underprivileged children in as a volunteer teaching in Tanzania.
What will I be doing?
Children schools are very vibrant places with most pupils extremely willing to learn. Working in a school in Tanzania, you may be asked to take lessons in English, math's or science, but don't worry if you feel your strengths lie outside these areas – the children you teach will benefit from your enthusiasm and your ability to construct sentences in English. Games and sports are another important part of school life, so please be prepared to get involved with these as well.
If you like you can spend the first few days working alongside a local teacher or established teaching volunteer, but we also encourage our volunteers to bring their own ideas and to get stuck in! You can make the classroom your own with your own rules and decoration. This will help to develop your skills as a teacher whilst providing help to those most in need.
If you'd like to find out more about Teaching Volunteering programs in Arusha Tanzania, apply now to hear from our specialist trip adviser.
2. Sport volunteering Project
Volunteering programs in Arusha Tanzania? As we know, sports and games are very important for proper learning and understanding of a child in class, improving concentration, teamwork and physical fitness. We place volunteers in schools where they can teach the children sports and physical education. Football is a huge passion in Tanzania- you'll find most premiership games on at bars in towns and villages- and there is a huge enthusiasm for learning how to play the game better and setting up competitive teams. Other sports such as netball and athletics are popular too, and often won't be taught formally to children. This is an amazing opportunity to share your passion for sport- to teach and train groups of children who may never have received formal sports training before.
Volunteering programs in Arusha Tanzania
Whether you have just graduated from the college, found yourself in search of a new job, or thinking about a vacation with a difference and really want to do something worthwhile, as a volunteer in Tanzania you will always be welcome. Volunteering abroad in Tanzania can be one of the most personally rewarding experiences you can have, and the most exciting part is, you are assisting to make the world a much better place.
3. Childcare and Orphanage
Travel for charity Tanzania supports a number of children's homes in Tanzania, providing assistance to overworked local staff and helping to give children a brighter future. Although local staff are extremely committed and do brilliant work supporting young children, childcare volunteers are integral in supplementing their stretched resources. This is where you come in!
Whether you work in childcare, social outreach or are a student, you could share and gain a lot of knowledge from this inspiring opportunity to volunteer with children in Tanzania.
Our placements are properly referred to as care homes or children's homes. They exist to provide support and care for vulnerable and at-risk children. These kids may have living parents or a family who are not currently able to care for them. They provide care when a child's family cannot, and aim to return the children to a stable family environment once the vulnerable period has passed. We place volunteers at a number of care homes and initiatives supporting children from the ages of 1 up to 16 and beyond.
What will I be doing?
As a childcare volunteer in Tanzania some of your duties will involve teaching small classes, as many children's homes have schools attached. You will also help with running structured games and activities. Helping to foster a sense of family and community at the home is hugely important – some of the children will have lacked this all their lives. In addition, you will be expected to engage in a wide range of other activities, depending on the specific needs of your placement. This will include plenty of practical work such as cleaning, laundry, cooking and the dishes, as well as painting classrooms and gardening.
If you'd like to find out more about volunteering at a children's home in Tanzania, apply now to hear from our specialist trip adviser.
4. Healthcare and Awareness
Travel for charity Tanzania provides volunteers with a unique opportunity to experience healthcare in a developing country, while simultaneously improving access to healthcare in underprivileged communities. If you are thinking of a career in healthcare, or are studying health-related subjects in university, this program will offer you essential first-hand experience to assist you in your career development. We place volunteers at hospitals and clinics that serve Arusha's most vulnerable populations to ensure our mission of giving back to communities in need. While shadowing and assisting local medical professionals, volunteers gain the medical experience they otherwise would not be able to receive back home, all while acquiring essential practice and instruction in many different medical areas.
5. Community Outreach and Empowering
Some Societies in Tanzania face a number of challenges. Most of which have exposed children to risks and untold suffering. For instance, Arusha has over 500,000 people living in extreme poverty.
In such a scenario, community outreach and empowerment programme efforts had to be doubled or even more, to cushion the community from the extreme suffering. Travel for Charity Tanzania reaches to the community with support and assistance that has pulled many households from a state of mere survival and despair to a state of self-dependence. Travel for charity Tanzania undertakes training and educational support, health care, spiritual nourishment and feeding to the orphans and vulnerable children in the communities in Tanzania. This is in response to increased levels of poverty; dictates of climate change like drought, famine and hunger; effects of HIV/AIDS; abandonment and child abuse.
Establishing community-based schools and providing support to the existing schools
Why volunteering programs in Arusha Tanzania? Travel for charity Tanzania has established one community-based school to provide an opportunity to children and young people who could have otherwise not be able to access formal education given the prevailing condition in their community.
Providing support to community schools
Travel for Charity Tanzania provides Education to children, youths and women as well as providing some food staffs for them during publics event. This program benefits a lot of learners every term. It has recorded significant impact such as:
Reducing learners' absenteeism,
Increasing attentiveness and active participation of learners in the classes
Increasing learners' participation in co-curriculum activities.
Travel for Charity Tanzania also conducts awareness on behavioral transformation, climate change mitigation and menstrual hygiene management. Sanitary towels are also distributed to over 20 schools to help keep girls in school. Additionally, Travel for Charity Tanzania also offers infrastructural support through building classrooms and sanitation facilities, installation of the energy-saving cook stove, and provision of furniture.
You're ready to find volunteer programs in Tanzania!
Volunteering in Tanzania is a one-way ticket to life-changing projects with children and wild animals, and there are excellent opportunities for volunteers interested at either end of the spectrum.
The possibilities don't end there, though; many volunteer organizations in Tanzania provide individually tailored volunteer opportunities so you can devote your time to the activities you find most fulfilling. Volunteering programs in Arusha Tanzania are a diverse bunch.
What are you still holding out for? Prepare yourself for one of the most important times of your life by packing your bags for a few weeks or months. When it's all said and done, you'll be glad you chose volunteering programs in Arusha Tanzania to do work in Tanzania—and those to whom you devote your time will be grateful.