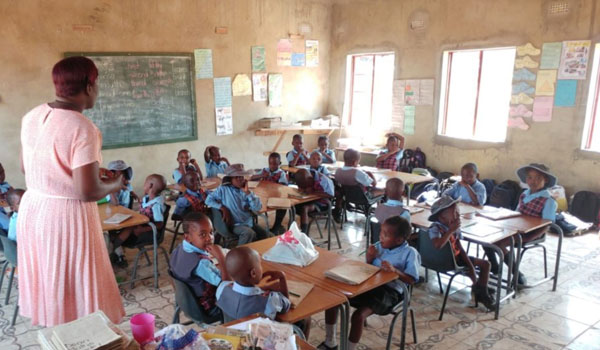 High­lights
Learn how to sustain the needs of others with inadequate resources.
Take the opportunity to travel and socialize on the weekends, as there is much to do for leisure and fun.
Arusha is a beautiful tourist city with much to appreciate. The people are welcoming, and the landscape and sceneries are magnificent.
Attain new skills and experiences to further your profession.
Enjoy Tanzanian food such as ugali and cooked bananas mixed with beef (Ndizi nyama).
Product Description
Within the teaching program, volunteers are usually placed in Arusha poorer areas, supporting primary or secondary English schools. Education is highly valued in Tanzania; children do enjoy education, especially in the presence of volunteers. Schools are often under-funded as not all children can afford tuition fees; they are provided with school uniforms, food, and school material. Often you will find schools with poor teaching facilities, without running water, and without electricity.
As a volunteer you may engage with classroom activities, check homework, support teachers with their preparations, and more. If you are confident in teaching, you may also teach by yourself according to the syllabus. Subjects usually vary from English, Mathematics, Science, Social Studies, and more. A class may contain one or up to 30 children.
As you will be working alongside local coordinators and the teachers, you will not need to be a qualified teacher for this program. However, some experience in teaching and managing a large number of children may be valuable. Sound English skills are recommended for the teaching project.
If you are passionate about teaching children, this project will be perfect for you. The gratitude and appreciation from the children is nonparallel and you may find yourself receiving more energy from the children than you can give.
What to be Expected?
Given the project activities (participating in classroom activities by teaching, checking homework, supporting teachers with lesson preparation, socializing, extracurricular activities and the likes), it is better to approach this project with limited expectations as the schools have different work conditions. Any activity can be assigned to any volunteer. If you are confident enough to teach and you have familiarized yourself with the Tanzanian curriculum, you may teach with supervision or alone in accordance to the syllabus at hand. Expect to be proactive and prompt, as the experience will be out of your comfort zone in the case of inadequate resources. You will need to apply initiatives that would satisfy the particular situations. Expect to learn, be challenged, and to experience a sort of fun you have never known while engaging with the children and the people.
What not to expect
Limit your expectations; the work is fulfilling but not easy, as our conditions in Africa derive unique approaches to everything. Schools are often underfunded and even though they accommodate all students, not all of them can afford the other fees required for lunch and development contributions. This derives the lack of adequate teaching facilities and services like water and electricity. We encourage you to be proactive and embrace the norms as part of a learning experience, and ensure that the locals learn from you as well.
What are the teachers like?
All schools are different. Some have enough qualified teachers and some don't. Some teachers are more accepting in involving volunteers, where others are reluctant. There are barriers to communication such as language and experience. The focus is not to ignore each other but to work together, share your knowledge, skills, applicable resource utilization, and teaching strategies. Participate in lesson planning, teaching, and create relationships with the teachers as they are friendly and love that you are there to work alongside them. When allowed to teach, use your platform to share knowledge and experience as best as you can, while involving the teachers so they can broaden the level of understanding of the students. Do not let the teachers delegate all the work to you; it's a supportive role. Work alongside them and do not be disheartened when you do not get a chance to teach. Work with initiative to help other aspects of the classroom; the supportive role you play as a volunteer is temporary, so make sure you instill the right skills, knowledge, and expertise to the placement assigned as a legacy to learning.
What are the children like?
The children are amazing and are very fond of volunteers as they participate in lessons, extracurricular activities, and games very willingly. The children come from different households and backgrounds; they are all unique. New experiences and learning from a teacher that has a different background can provide new substance that inspires their learning interest.
Duties and Tasks
Volunteers will be assisting and teaching, depending on what you are comfortable doing. These activities range from lesson planning, marking books, cooking, cleaning, and playing games, to assisting and socializing with the children. Some volunteers prefer to be hands on in their placements and can broaden their activities to building, renovations, and painting within the school premises. It is best to acquaint yourself with the Tanzanian education curriculum and the syllabuses. The volunteers should be present at their placements from Monday to Friday within school hours. If not, be sure to inform your placement and volunteer coordinators beforehand.
Challenges
Culture differences, specifically the different approaches to life.
Different living conditions (for example: the weather, availability of basic resources such as water and electricity, consumer goods and distance to services).
Transportation (inadequate transport especially in the rural areas, bumpy rides while travelling with bodaboda and congested village buses)
Expectations. With high expectations, it is easy to be disappointed by the lags and reluctance to be involved, especially with impatience to reach perfection.
Positives
Arusha is a beautiful tourist city with much to appreciate. The people are welcoming, and the landscape and sceneries are magnificent.
Take the opportunity to travel and socialize on the weekends. There are many spots for leisure and fun.
What can I bring?
You are not required to bring anything to your volunteer placements, but if you feel like donating and sharing it will be appreciated. There are many needs due to the limited resources schools have, ranging from stationeries and books to school facilities and requirements.
Typical day
In general, volunteers have the freedom to choose how they spend the day. However, a daily routine is recommended and may be coordinated with the project coordinators based on your program. A general day may look like this:
Breakfast between 6:30 and 7:30am
Commuting to placement via public transport
During your time at the school, you will observe culture differences within the practice in Tanzania. According to your skills, qualifications, and comfort zone you will be very involved at classes; either just learning from and observing the teachers, or hands on experience and practice. You will have the opportunity to visit and work in several different classes and rotate around them if you wish. The hours are usually from 8:30am-3:00pm depending on how busy the day is.
Lunch between 12:30am and 3:00pm either at the placement or at the accommodation
Placements end usually between 2pm and 4pm depending on the project
Free time for the rest of the day and preparation for the placement the day after (if necessary)
Dinner between 6:30pm and 7:30pm
Visiting a house of babies after coming back from your placement or during the weekend
Free-time activities
Day trips
Walter falls
Zip line
Coffee and banana plantation
Visit a Maasai village, where you will learn and see the lifestyle of one of the strongest cultures in Africa.
Hiking and climbing the mountains such as Mt. Kilimanjaro, the highest mountain in Africa.
Visit Zanzibar for diving and water sports
Tours and Safaris
Visit Ngorongoro national park, where you can go down into the historical crater conservation
Serengeti national park
Manyara national park
Mikumi national park, and many more!